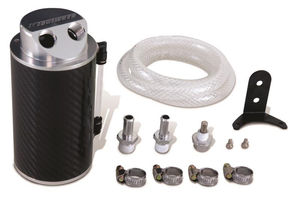 Mishimoto Carbon Fiber Oil Catch Can MMOCC-CF
Regular price $116.25 Sale
Universal Fitment - FREE SHIPPING
Mishimoto has developed a carbon fiber oil catch can to make sure you're getting the most out of your performance parts.

Over time harmful oil will build up inside the turbocharger, intake manifold, intercooler and piping. A Mishimoto Carbon Fiber Oil Catch Can will prevent this from happening while its sleek carbon fiber exterior will add a touch of style to your engine bay.

An oil catch can serves other important purposes as well. It will prevent oil from getting into pressurized turbo plumbing, which can lead to couplers coming off under boost. Oil vapors can get into the intake system which will lower combustion temperatures and reduce overall efficiency. A Mishimoto Carbon Fiber Oil Catch Can will solve all these problems and give you the added security knowing that your performance parts are safe from harmful oil. This oil catch can, as with every Mishimoto catch can, comes with the unparalleled Mishimoto Lifetime Warranty.

Our catch cans are different from most air-oil-separator (AOS) systems on a few levels. First, our catch cans are not heated. This means that all of the blow-by is able to condense in the can, including low-octane oil vapors and contaminated fuel vapors. Most AOS systems also drain the blow-by back into the oil pan, while our catch cans trap the blow-by and keep it out of the engine permanently. If you've seen what we've seen in the bottom of our catch cans, you won't want that draining back into your oil either.
Separates oil particles from PCV/CCV air
Defends intercooler, intake system, and essential components from oil blow-by
Made from lightweight carbon fiber
Compact design makes for easy engine bay placement
Checking fluid levels made easy with built in sight tube
Comes complete with mounting bracket, hose, all necessary clamps, fittings, and mounting hardware
Mishimoto Lifetime Warranty
Purchase Includes
(1) Carbon Fiber Oil Catch Can
(4) O-Ring Clamps Mounting
Bracket and Hardware
Hoses and Hardware
See more:
Miata NA Engine Parts
,
Miata NB Engine Parts
,
Miata NC Engine Parts
,
Miata ND Engine Parts
,